Periodontics
Periodontitis, also called periodontal disease, is a bacterial inflammation of the tooth space and a leading cause of tooth loss. Early periodontal treatment at the dentist can stop the disease and heal the infected areas in the mouth. Are you suffering from inflamed or bleeding gums? Take action today – contact Praxis Mitte and make an appointment now for periodontal treatment in Berlin.
What is periodontal desease? What is periodontitis?
Periodontal disease, also called gum disease, is a very common condition. It is an inflammation of the tooth bed caused by bacteria at the gum edges. Inflamed gums can cause deep pockets to form between the tooth and the gum. Bacterial plaque may form in these gum pockets and reach the teeth's root surface, eventually affecting the entire periodontium. If left untreated, chronical periodontitis can cause lasting damage to the periodontium and lead to tooth loss. For most patients, periodontal disease progresses chronically over several years. Systematic treatment is therefore absolutely essential. We will be happy to advise you on this in our practice in Berlin. Make an appointment with a periodontist today!
What are the symptoms of periodontal disease?
Chronic inflammation of the gums, also called gingivitis, is often not discovered because it usually has almost no symptoms in the early stages and is not always painful. It often develops into periodontitis, an inflammation of the entire tooth bed. A first sign is reddened gums that begin to bleed easily. Initially harmless, it is nevertheless considered an alarm signal. In addition to bleeding gums, other accompanying symptoms include bad breath, plaque and aching gums. Also moving teeth and exposed cementoenamel junctions (necks of teeth) are clear indications of a progressing periodontosis. If you notice any of these symptoms, talk to our dentists about them at your next appointment.
What are risk factors for periodontitis?
The main risk factor for gum disease is bacterial deposits. Infections that develop into chronic inflammation over a long period of time without treatment can cause periodontitis. Other risk factors include poor oral hygiene, teeth grinding, smoking and an overall unhealthy diet. However, stress, diabetes, certain medications and genetic predisposition also play a role. These factors accelerate the course of the disease. Gum inflammation can thus lead to inflammation of the entire tooth bed, causing teeth to loosen and, in the worst case, to tooth loss. We will be happy to advise you on this in our practice in Berlin. Make an appointment for periodontal treatment today!
How can periodontitis be prevented?
Periodontitis is considered to be a chronic disease. Therefore, we recommend preventive regular check-ups at the dentist as well as professional teeth cleaning. Our dental office team of experienced dental hygienists offers not only classic prophylaxis but also special vegan tooth cleaning. In addition, thorough daily dental care is important for maintaining good oral health. Home oral hygiene includes brushing your teeth twice a day, thoroughly cleaning the tongue and the interdental spaces with dental floss and special interdental brushes. A healthy, balanced diet is also crucial.
Get to know the prophylaxis & dental hygiene team at Praxis Mitte in Berlin!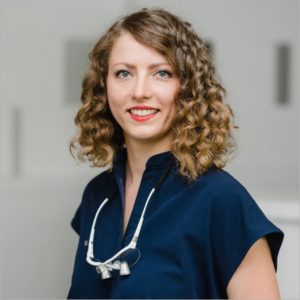 Sophia Helinski
Dental Hygienist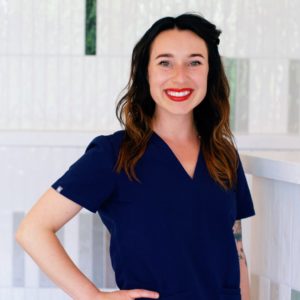 Meax Niezgodski
Dental Hygienist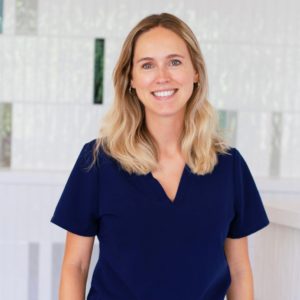 Josepien Dennesen
Dental Hygienist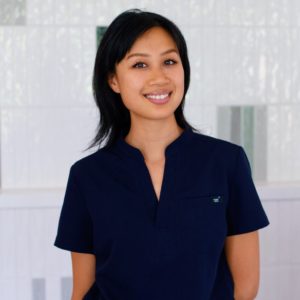 Bich Luu
Dental Prophylaxis Assistant
Do you have further questions about periodontology?
We would be very happy to personally consult you in our practice in Berlin-Mitte and answer all your questions about periodontology and periodontal treatment.
Make an appointment with us today. We look forward to your visit!