Veneers
Your teeth are not perfect and therefore you are not happy with your smile? Then we have the remedy for you! Many of our patients come to our practice because they like to have more beautiful teeth. Praxis Mitte is your trusted dental practice when it comes to laminate veneers in Berlin. We will give you a prettier and more beautiful smile. Make an appointment for a consultation today.
Crooked teeth, discolouration of the dental substance, broken or chipped teeth due to accidents, gaps between teeth or or stained fillings have an enormous influence on the cosmetics of our smile. Therefore, they are a major factor in our first impression.  In order to correct some of these cosmetic flaws, tooth misalignments can be straightened, or teeth can be whitened through regular dental bleaching. However, teeth whitening only works on teeth that do not have crowns or fillings. However, veneers offer the possibility of achieving a quick and lasting cosmetic improvement in shape and colour.
How is veneer treatment performed?
The application of veneers at the dentist is a minimally invasive treatment. Usually, one consultation appointment and two sessions are scheduled. These two sessions are approximately one week apart. During this time, your teeth are temporarily fitted with polymer veneers.
First step: the personal consultation
Before the actual treatment of your teeth, a non-binding initial consultation is held with one of our specialised dentists. During this meeting we will discuss your wishes and advise you individually on the advantages and disadvantages of veneers. Following an examination of your teeth, our experts in aesthetic dentistry will discuss the further course of treatment with you and will be able to give you details of the estimated costs for veneers. It is possible to digitally simulate the treatment results in advance. In addition, this digital design can be transferred to a model made of resins. This way you can see the result in your mouth beforehand.
Second step: Preparation and fabrication of your veneers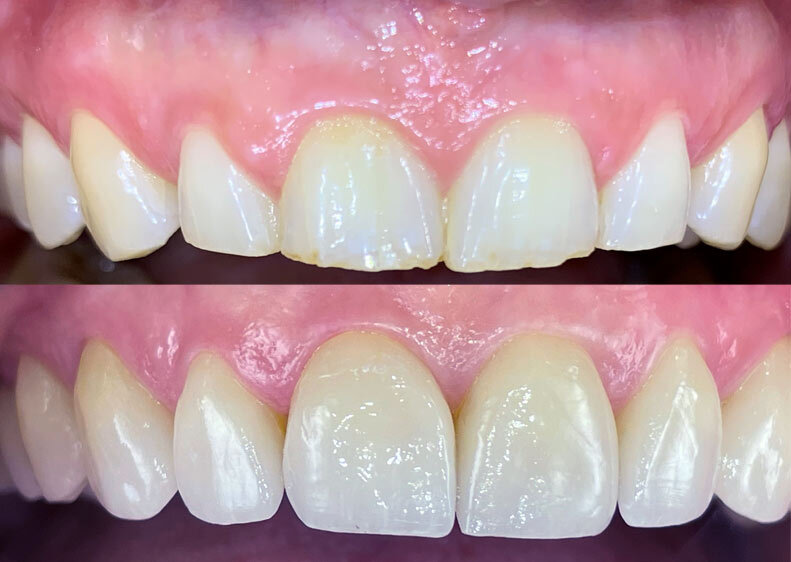 At the first treatment appointment, create a digital scan of your teeth. We will then work with you to determine the right colour shade for your veneers. Based on the scan, our in-house dental technician will produce the wafer-thin ceramic veneers exactly according to your requirements. Our dental laboratory needs about one week to produce your individual veneers. In addition, photographs are taken for the before and after pictures, which are used to document the individual success of the therapy.
Also in this step, your front teeth are prepared for the attachment of the dental veneers. For this, the enamel of the relevant teeth must be slightly abraded, and the tooth surface must be roughened. Compared to the insertion of a crown, only hard tooth substance is ground off and the healthy tooth substance remains untouched as much as possible. This procedure is carried out under local anaesthetic. To make the necessary injections as painless as possible, we use a surface anaesthetic beforehand.
Third step: the fitting of your dental veneers
At the last appointment we finally attach your veneers.  When choosing our high-quality veneers in Berlin, you benefit from the fact that hardly any tooth substance must be removed for the preparation. This means that your teeth remain vital and healthy behind the new veneers.
Our dentist uses a special adhesive technology to attach the wafer-thin ceramic veneers to the professionally cleaned and dry tooth surface so that they last for a long time. Right after this treatment, you can show off your gorgeous looking teeth and you can also eat and drink normally.
Opt for professional veneers in Berlin Mitte and book an appointment at Praxis Mitte now.